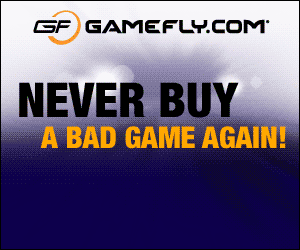 Post contains affiliate links
We have been testing out Gamefly
 for the past few weeks and I have to say, I am loving it! I have been wanting Assassins Creed 3 since last year. Please don't ask me why because I am not a video game lover at all. However, I have been fascinated by the commercials and advertisements I've seen but just didn't want to spend the money to get it.
With Gamefly you have the option to try before you buy or not buy at all if you don't like it. I am glad we did it through Gamefly because I would have been truly disappointed. I don't like the game at all but hubby sure has took it over and been playing it. With Gamefly you really don't have much to lose because it beats paying $50 to $60 for a game title only to find out you really don't like it. You also don't have to worry about trying to trade it in and getting ripped off. Most of the time they don't even want to give you a fraction of what you paid for the game with your trade in.
Check out Gamefly and get a free trial. Subscription starts at only $5.95 a month and shipping is free plus you can cancel at any time. Also makes a great gift for any gamer in your life.
Sign up here and choose from 8,000 titles
 Disclaimer: The previous post may contain affiliate links. If these links are clicked, I may receive monetary compensation. If the previous post is a product review, I was given the product to facilitate the review. Regardless, all opinions are my own. I only recommend products that I truly believe will benefit my readers. My full disclosure policy can be found under the disclosure tab above.