We were sent a free product from VTech for review purposes. All opinions are my own.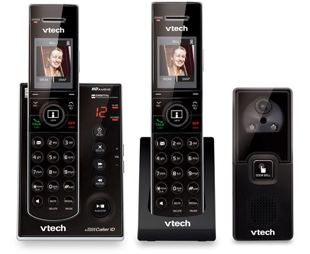 This Father's Day, give dad the gift of technology with this VTech audio/video doorbell cordless phone system! He will be amazed at how far we have evolved when it comes to our phone systems. You no longer have to spend an arm and a leg for security in your own home. This allows you to see who is at the door without even having to move from your couch. Long gone are the days of having peep holes on your door and nearly breaking your neck trying to see outside. This is truly a gift Dad and other family members will appreciate all year round, not just on Father's Day.
When we found out we would be able to review this phone system from VTech, I immediately knew it would be perfect for us. We live in a very wooded area so when visitors knock, I don't always feel safe, especially at night. I never really know who has popped up especially with the dog barking over the person at the door. Having this video cordless phone, I feel a lot more at ease being able to see whose there just by looking at my phone.
Everything you need is in the box including two headsets with charging bases, video doorbell, batteries, and more. There is nothing separate to purchase which makes setting up your system a breeze. We are absolutely in awe at all the features this has! Once dad has hooked everything up (which only took hubby a few minutes), he is set to go and use this and put it to the test. When you have a visitor arrive, all they do is push the button to ring the bell and it captures a picture that you can see from either handset you have in the house. How neat is that! It even stores up to 100 photos of visitors you may have missed while you were away from home.
Of course it still does everything a normal phone does like make voice calls, caller ID, answering system, and much more but to me the video aspect is my favorite. I love having security knowing who is at my door. i also love having a choice of answering and speaking to who's there. Everything is in my control. The large LCD screen allows you to have a full view of visitors and the night vision is perfect for our area. I can still get a clear picture of the person outside no matter what time of day it is.
If these features are not enough for you, check this next one out. This cordless phone system also has the capability to act as a walkie talkie. Great for those with bigger houses. You don't have to yell at the person downstairs when you need something. Just use your phone and talk to them straight from your handset.
Well there you have it! So many great features that I can't name them all. You just have to check it out for yourself. I am loving the VTech audio/video doorbell cordless system and think this is perfect for the dad who has just about everything. Plus it's a great way to give the entire family the best security upgrade. He will love it. I know we do!!
Thanks VTech for allowing us to review the IS7121-2 Audio/Video camera doorbell.
Disclaimer: The previous post may contain affiliate links. If these links are clicked, I may receive monetary compensation. If the previous post is a product review, I was given the product to facilitate the review. Regardless, all opinions are my own. I only recommend products that I truly believe will benefit my readers. My full disclosure policy can be found under the disclosure tab above.